While busy launching Google Chrome OS, Google has recently taken another approach by introducing Search with My Location for iPhone 3.0. The Search with My Location has been designed to return the search results which relevant to the users current location. However, it only works with Safari browser.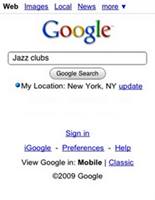 To enable this feature, the users need to visit google.com via Safari browser and activate My Location. The users can simply update their location by clicking on the "update" link and their location will be updated, and displayed right there on the homepage. The users also can search for nearby restaurants, clubs, schools  and etc, according to Google Mobile Blog.
For privacy purpose, Search with My Location has to be opted in, and users can disable it from preference tab at the bottom of the homepage.
Currently, Search with My Location from Safari is available in English in US and UK. Beside that, the search with My Location by using Google Mobile App with My Location for iPhone is also available via iPhone App Store.