Although Google has just launched Google Chrome browser nine months ago but today it have more than 30 million users. Now, Google has taken another innovative approach by launching its Google Chrome Operating System. The Google Chrome Operating System is an open source free OS which targeted to power computers ranging from small netbooks to full-size desktop systems.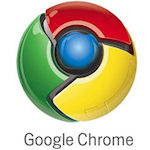 The highlights of the platform are speed, simplicity and security for improving the users experience while on the web. The OS has been designed with basic features, functionality and underlying security architecture of the web.
According to the company, they will work with multiple OEMs such as Acer, Adobe, ASUS, Freescale, Hewlett-Packard, Lenovo, Qualcomm, Texas Instruments, and Toshiba to unveil a number of netbooks in the market by next year. The innovative OS will run on both x86 and ARM chips. The software architecture is simple which Google Chrome running within a new windowing system on top of a Linux kernel. All web-based applications is expected to work automatically and there is no limitation on the web technologies as long as the web-based applications are able to run on any standards-based browser on Windows, Mac and Linux.
Google reveals that the Chrome OS is an entirely new project which is separate from Android. From the initial stages Android was structured to work across an array of devices like phones, set-top boxes, netbooks and more.
The company is plans to work with open source community soon to accomplish this new project.