Well, the Windows 7 Beta has been delayed due to massive and overwhelming response to the release of Windows 7. In TechNet Windows 7 Beta Customer Preview page, the following error message is displayed page is now live and working properly to allow user to download and get the Windows 7 product key aka CD-key (although now all the product key is same for multi-use activation) for activation to activate the installed Windows 7.

Thanks for your interest in the Windows 7 Beta. The volume has been phenomenal — we're in the process of adding more servers to handle the demand. We're sorry for the delay and we'll re-post the Beta as soon as we can ensure a quality download experience.
It's not sure how long the registration participation in Windows 7 Beta CPP will be re-opened. However, we believe majority of the users just need the product key to activate the Windows 7. If so, here's the direct links to get a valid, genuine and working product key to activate Windows 7 without delay, instantly.
Windows 7 Beta 64-bit Product Key: https://www.microsoft.com/betaexperience/productkeys/win7-64/enus/default.aspx
Windows 7 Beta 32-bit Product Key: https://www.microsoft.com/betaexperience/productkeys/win7-32/enus/default.aspx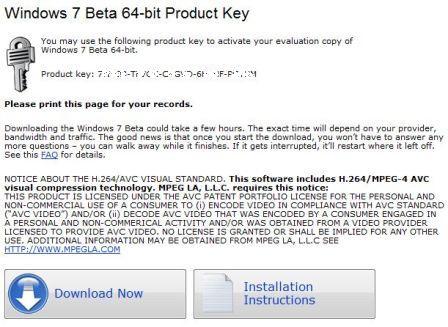 Tip: Still having trouble getting a product key? Just use the free public unlimited activation product key to activate Windows 7 Beta.
You may need to sign in to Windows Live account, and probably also have fill out the Windows 7 beta profile (before the link is taken down, or try to login to https://profile.microsoft.com/ or http://technet.microsoft.com/en-us/evalcenter/dd353205.aspx) to make it working. Only 2.5 millions free product key is available for grab, and the product key appears to be only valid for Windows 7 Ultimate edition, and not Windows 7 Home Premium or Business editions. The 32-bit and 64-bit product CD key is interchangeable.
Meanwhile, the direct download links to Windows 7 Beta 32-bit and 64-bit ISOs are working and alive. And, don't forget the important KB961367 update to fix MP3 corruption issue.