Obesity has become a critical social issue nowadays especially in developed countries like the US and UK. Excessive obesity is always associated with many types of illness and disease. Fatty tissues which are stored around the stomach and body will increase the percentage of getting diseases such as heart attack, high blood pressure, high cholesterol, etc. Furthermore, carrying a fat belly and walking around is definitely a tiring task. Generally the main cause of obesity is unhealthy eating habits. Consuming excessive high sugar and salty foods such as junk food is one of the main culprits to obesity. Hence, it is important to have a balanced diet and maintain healthy eating habits. To keep a good eating habit and healthy lifestyle, get help from CaloriSmart, a handheld electronic calorie counter and food diary.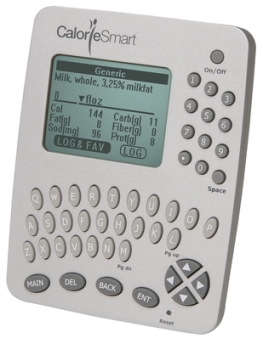 The CalorieSmart is designed to assist health-conscious users to keep track of their daily diet, log their exercise and monitor how many calories have been burned. This pocket size device furnishes users with nutritional information of over 35,000 food items, including items from over 250 restaurants and 500 brands. You can improve the nutritional database by adding up to an additional 1000 new food items and your personal exercise record.
This handheld electronic calorie counter is easy to operate. You can use this device to record and calculate the nutrition content of your meals. You can track the amount of calories, carbs, fiber, fat, protein, sodium, etc that you have consumed. To make your recording easier, this gadget also allows you to personalize your favorite food list. Besides calculating your nutrition contents, you can also use the exercise log feature to monitor your exercise records and amount of calories burnt during your exercise. You can store your eating habit records for up to 12 months with this little device. However, you can also download this database into your PC and print the reports. It is connectable with a computer. The CalorieSmart only costs around $80. It's a worthwhile investment if you are particular about your health.