It is a new multifunction sports-watch designed for life on the edge. It can be worn anywhere and works with virtually any sports – basketball, skateboarding, rock climbing, etc. It is "HangTime", a superb design based on rocket science theories.

Measuring 2.5in x 3in and weighing merely 70g, HangTime is designed in such a way that it can be tucked inside a pocket or clipped to a belt loop. With a built in tri-axis accelerometer, HangTime can sense when the wearer has left terra firma and then measures each hundredth of a second aloft (or so called hang time). This watch can log the 10 best hang times and has five sensitivity settings for different sports (from 0.25 to 2 seconds). It can keep track of the best and average hang time as well as the total accumulated time in the air.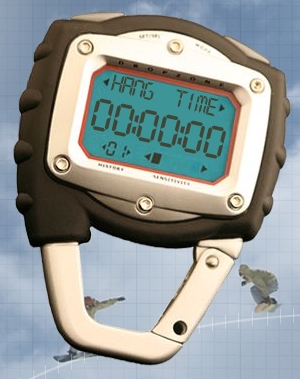 Besides collecting air time information, HangTime can also be used to read time, date and temperature. Athletes or swimmers can also use HangTime as a stopwatch to calculate lap times. This special watch is water resistant up to 3m and runs on two AAA batteries.