Looking for an ultimate gift for Christmas? The leading manufacturer of a wide range of home and car audio products, Harman Kardon has launched its stylish, high-end two piece 2.0 speaker system for computer, MP3 player as well as home entertainment use – Harman Kardon GLA-55, which combines an innovative ice-cool design with impeccable sound technology and functionality, seems perfect for audio enthusiasts looking for a stylized audiophile-quality sound experience.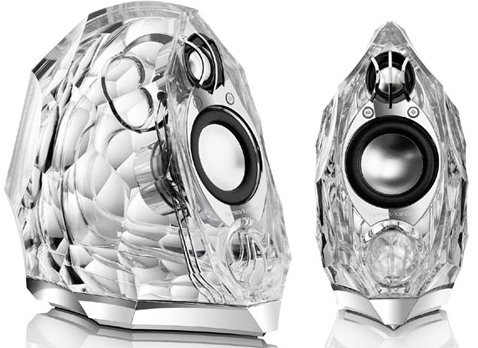 "From inception to final product, Harman's design and engineering team worked in tandem to create the aesthetics for GLA-55," commented Christopher M. Dragon, director for field marketing at Harman International. "Our goal was to create a high-end product that not only has stunning sound and visual appeal, but versatility in its use as well. GLA-55 does just that by delivering pure Harman sound while displaying simplicity and class."
Main features and technologies of Harman Kardon GLA-55:
Slipstream port design minimizes boundary layer separation providing high output bass with low distortion
COE (Computer Optimized Equalization) delivers a rich, complete sound stage over a wide range of listening positions
OCT (Optimized Compression Topology) utilizes a proprietary compression technology to insure clean accurate sound at high output levels.
DSP (digital signal processing) equalization efficiently provides the systems powerful Atlas AL and CMMD transducers with cool-running power
Touch-sensitive volume controls providing users an easy user experience
Available in clear with chrome accents
"While in the design lab, the creative minds at Harman Kardon were determined to create an audio system that inspires creativity and beauty along with great sound," said Kurt Sollund, vice president for industrial design at Harman International. "With its unique design and cut glass motif, we see GLA-55 as a piece of art that will add aesthetic appeal to any surrounding."
Harman Kardon GLA-55 that compatible with virtually any audio device with an analog output (including MP3 and CD players, satellite radio, desktop and laptop computers) is available at selected retailers, www.amazon.com and www.harmanaudio.com for around $1,000.