The manufacturer of Comply Foam Tips, Noise Reduction Earphones and Whoomp! Earbud Enhancers, Hearing Components has launched its new Comply NR-10i High Tech Noise Reduction Earphones for iPhone, which incorporates the same patented technology used by U.S. military pilots to offer amazing noise reduction, superior comfort as well as secure in-ear fit, aiming to enhance your iPhone experience.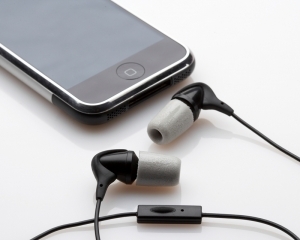 According to Hearing Components, "Comply NR-10i was engineered to maximize noise reduction, obtaining a Noise Reduction Rating (NRR) of 29db! The included Comply Foam Tips P-Series were engineered to take the shape of an ear canal by gently expanding and remaining in place. Comply Foam Tips are made of high-tech, viscoelastic polyurethane foam developed for the ever-changing ear environment."
In addition, the new Comply NR-10i earphones also have an integrated microphone and function switch on the cord, allowing users to answer and end calls, play, as well as manage songs with the touch of a button.
"The iPhone has become an integral part of their user's lives — from communicating to disconnecting from the noise that surrounds them," said Steve Thompson, director of sales and marketing for Hearing Components. "Unfortunately, standard earphones don't fully optimize the power of the iPhone. Often, outside noise interrupts conversations or corrupts the music experience. By incorporating the Comply Foam Technology into the earphones, users can now appreciate the full potential of the iPhone experience."
The new Comply NR-10i High Tech Noise Reduction Earphones that come with 1 pair of slim-size Comply Foam Tips, 1 pair of standard-size Comply Foam Tips and deluxe travel pouch are now available through its official Web Site for about $100.