Rain water dripping and drenching the car carpet is always an irritation to many car drivers when they throw their completely wet umbrella into the car after jumping in from the heavy rain outside. Some users might like to use an expandable plastic cap to cap the umbrella and some might keep it with a plastic bag. The designer Matthew Swinton just came out with new idea if you are looking for something more practical and straightforward.

The new Sprout Umbrella turns the conventional umbrella on its head by hiding the canopy of the umbrella within the shaft. When users want to use it, they just need to unlock the knob at the handle. By unlocking the knob, the inner mechanism will force the bendable plastic arms of the canopy which are kept inside the shaft to extend outward and open up. Literary it looks like a growing bean sprout.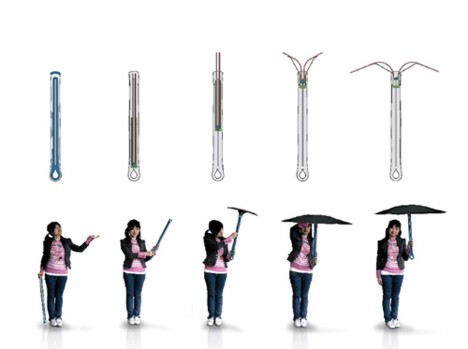 After using, the collapsible arms and canopy can be stored back inside the shaft and the collapsed umbrella will resemble a stick. It can probably be used as a weapon to protect yourself in case of robbery. However, users might need to air it after getting home so that it doesn't stink or grow mouldy.