The world's leading innovator and provider of digital storage products, Hitachi Global Storage Technologies has officially announced the launch of its new high-performance, powerful Hitachi LifeStudio external hard drive portfolio, which the company claims as the first all-in-one external drives that able to automatically find and organize photos, videos, music as well as documents into a stunning 3D wall, offering users an easy access to Facebook, Flickr and Picasa.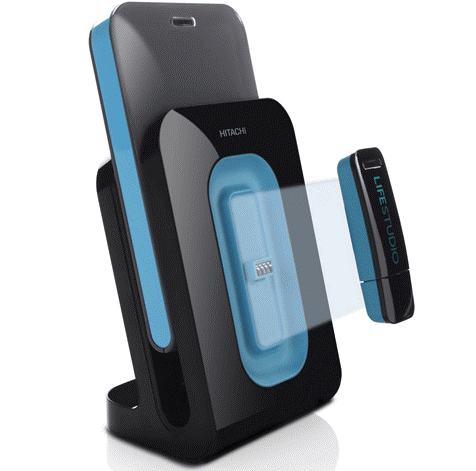 The new Hitachi LifeStudio external hard drive line-up that also features automatic local and online backup is currently offered in 4 models (portable and desktop versions) – LifeStudio Mobile, LifeStudio Mobile Plus, LifeStudio Desk and LifeStudio Desk Plus.
In addition, the latest Hitachi LifeStudio Plus portable HDD family (LifeStudio Mobile Plus and LifeStudio Desk Plus) with an integrated 4GB auto-sync dockable USB key is designed for an ultimate flexibility, giving users a quick, convenient way to sync their important digital content for grab n' go ease.
"Our LifeStudio drive starts where others stop," commented Mike Williams, vice president and general manager for Branded Business at Hitachi GST. "These drives aren't just about interfaces and capacity, or backup. While these elements are important in an external storage solution, the value comes in creating lifestyle solutions that become part of the way we organize and relive digital memories. Our LifeStudio solution connects consumers to their online and local content in a more intimate way than ever before. For the first time, consumers truly have an integrated experience – one solution to find, view, protect and relive their digital memories. This is a huge milestone for our category."
The new Hitachi LifeStudio USB 2.0 external hard drives that compatible with both Mac and Windows PC will come pre-loaded with Hitachi LifeStudio content management application and Hitachi Backup software, scheduled to hit the market in mid-July 2010.
Pricing Details of Hitachi LifeStudio External Storage:
Hitachi LifeStudio Mobile 250GB – $79.99
Hitachi LifeStudio Mobile 320GB – $99.99
Hitachi LifeStudio Mobile 500GB – $119.99
Hitachi LifeStudio Mobile Plus 320GB – $119.99
Hitachi LifeStudio Mobile Plus 500GB – $139.99
Hitachi LifeStudio Desk 500GB – $99.99
Hitachi LifeStudio Desk 1TB – $129.99
Hitachi LifeStudio Desk 2TB – $199.99
Hitachi LifeStudio Desk Plus 1TB – $149.99
Hitachi LifeStudio Desk Plus 2TB – $219.99
Watch the demo video for new Hitachi LifeStudio Plus external hard drives: