HDD (Hard Disk Drive) is one of the important elements in the PC architecture. While most of the manufacturers keep on developing higher capacity and faster HDD, there could be room for improvement in reducing the HDD power consumption. In view of this, Hitachi has just unveiled the world most power efficient HDD (Hard Disk Drive) for PC market. The new series, known as Deskstar P7K500 is believed to be able to have a huge 40 percent power savings as compared to traditional HDD.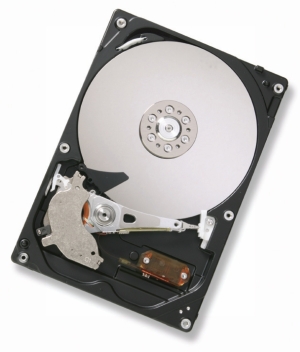 Higher power efficiency always translates to longer battery life with lesser amount of energy wasted or dissipated as heat in the system. There are few technologies involved that able to increase the energy efficiency in Deskstar series. Firstly, the innovative HiVERT technology has enabled a more efficient voltage stepping down conversion. HiVERT technology is being deployed widely for laptop HDD in which poor battery life is a great concern.
To further improve the efficiency, the new series are featured with Advanced Power Management that can detect the loading and adjust or slow down the RPM in idle mode. The energy saving is again quite significant, approximately 44 percent as compared to traditional HDD in idle mode.
The new series come with a few capacity options ranging from 250GB up to 500GB. No pricing has been announced at this moment but we should expect them to hit commercial market by end of this year.