Google is preparing a new user interface for Google AdSense, which offers features such as more detailed reports with graphs including ability to view daily stats in graphical formats and additional metrics such as the amount publisher has earned from various ad, targeting and bid types, and the ability to complete common actions in bulk.

Google AdSense blog also explains that the new interface offers publishers more control over the ads that appear on the sites, mainly via enhancements and improvements to Ad Review Center. The interface is also streamlines to simply common tasks, such as making a change to several ad units simultaneously. Additionally, there are more relevant help on every page, a message inbox for tips from Google AdSense team, and alerts with important account related notices. There will be also display of AdSense revenue share which publisher is getting.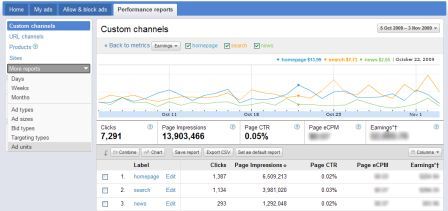 For publishers who can't wait for the new AdSense interface to roll out to everyone, here's the way to apply to Google for an invitation in order to enable the new interface for your AdSense account. Interested publishers just need to fill in a simple form via link below:
http://spreadsheets.google.com/viewform?formkey=dFBidHhuWENBS1RIWVZjcmtVZGZmRlE6MA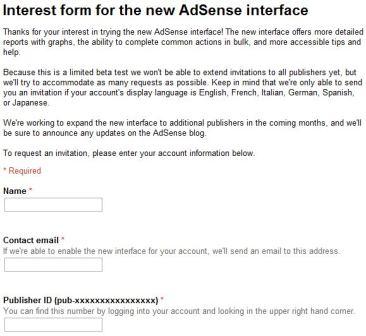 Note that currently the new interface of AdSense only available for publishers with account's display language of English, French, Italian, German, Spanish, or Japanese.