iDOS is a rare emulator app for iPhone, iPod touch and iPad that emulates DOS environment on iOS devices. iOS is actually a repackaged version of open source DOSBox emulator, and was first launched on the App Store on October 2010, but was quickly pulled and blocked by Apple due to ability to load PC games and software programs using iTunes file syncing.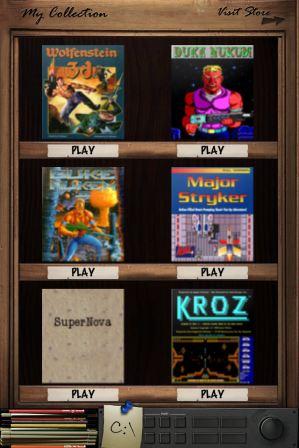 After two months of only available through Cydia as DOSPad for jailbreak community, iDOS has finally made a comeback to the official iTunes App Store (note: it appears that iDOS has been removed from App Store again, but for users who already downloaded it, the trick to sideload software into iDOS still work), after the ability to conveniently copy and install DOS executables via iTunes file syncing is removed.
However, iDOS users have discovered a simple, easy and does not required jailbreak hack to load and install any PC DOS-based software applications or games (in the form of DOS executable .exe files) into iDOS for execution in the emulator. And that one of the supported software is full blown Windows 3.1 and many popular games such as Warcraft II, Sierra adventure games, Space Quest. iDOS actually contains a full working version of DOS, and has the capability to gain read-only access to some of the iOS system files.
The revised iDOS comes with several 3D Realms (Apogee Software) shareware games and apps which can be downloaded from "iDOS Store" after iDOS is installed and launched, such as Wolf3d, Duke I/II, Major Striker, SuperNova, and Kingdom of Kroz II. iDOS now has a simplified game launcher that will automatically run the installed program without typing the commands on the virtual keyboard, adds full virtual joystick (d-pad) or gamepad with buttons, and adds support for Bluetooth keyboards that only works in text-based games. iDOS can be used in portrait or landscape fullscreen mode with ability to force 4:3 screen aspect ration.
New version iDOS users who want to install any compatible DOS games and software programs that does not available on "iDOS Store", here's the trick to copy and transfer the .EXE files to iDOS, which will be saved into the app's sandboxed file space, and used by the emulator as its C:\ drive, without jailbreak the iPhone, iTouch or iPad (tip: if you jailbreak, just get DOSPad from Cydia without any limitation).
Download and install iDOS (version 2.0.1).
Download and install iPhone Explorer, a freeware that allows users to browse files and folders on iPhone as USB mass storage disk drive mode or a USB flash drive.
Plug in iPhone, iPod touch or iPad to computer via USB.
In iPhone Explorer, expand the iDevice, then go to Apps branch.
Locate iDOS or 8HLDK844H7.net.litchie.idos, and then expand to Documents branch. The Documents folder is the iDOS "C:" root directory.
Copy any games or program folder and files to under Documents folder. It can be any sub-directories inside the "Documents".

Launch iDOS to load the DOS app.