Matroska Multimedia Container (MKV) is a free, versatile, and open standard container file format which can hold an unlimited number of video, audio, picture or subtitle tracks inside a single file, especially for HD (high definition) media contents. Quite a lot of video files in .mkv format now embed subtitles within the file itself, eliminating the need to search and download external subtitles.

The MKV may have not only one subtitles. Sometimes, a MKV video file may have encoded with two or more subtitles. The subtitles in MKV can be extracted to common formats such as ssa, idx, sub or srt. However, a separate subtitle file will defeat the purpose of embedding of subtitles inside the MKV container. The subtitles embedded in Matroska MKV video media can be turned on, enabled, showed and displayed automatically on screen while playback.
Most users install CCCP (Combined Community Codec Pack) or Haali Media Splitter to play MKV files. CCCP includes DirectVobSub inside the codec pack, which is a DirectShow subtitle filter essential for rendering and displaying of subtitle captions on screen. For users who do not use CCCP or any other codec pack, and depends on standalone MKV codec such as Haali Media Splitter, users have to download and install DirectVobSub subtitle filter.
With proper codecs in place, Windows Media Player (WMP), Windows Media Center (WMC), Media Player Classic (MPC), ZoomPlayer and other DirectShow-based media player or video player show automatically launch the DirectVobSub (VSFilter) on playback of video file in MKV format with subtitle entitled.
Some media players and VSFilter versions does not cause Haali Media Splitter to auto load the VSFilter (DirectVobSub) on playing of MKV file. In the case, manually configure the Haali Media Splitter to auto load DirectVobSub. To do so, go to Start Menu -> All Programs -> Haali Media Splitter -> Media Splitter Settings. In the Haali Media Splitter Properties window that opens, go to Options tab. Expand Compatibility tree branch, and select on Autoload VSFilter. In the Value drop down box, select Yes. Click OK to close.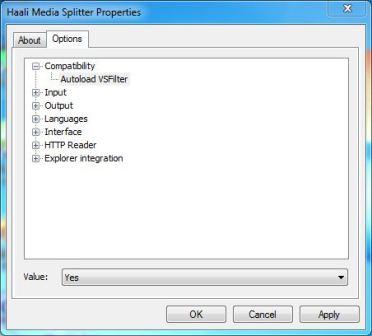 In addition, some versions of Haali Media Splitter does not usually auto select any of the embedded subtitles. In order to select a sub to display with video that is been playing, right click on Haali Media Splitter icon (black omega symbol on while background) at notification area (system tray), and select the proper subtitle stream in language of choice. The subtitles available is preceded with "S:". User can switch to another subtitle anytime if there is more than one subtitles available.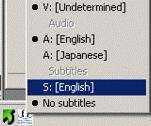 For users of MPC (Media Player Classic), it's also possible to enable auto load subtitles option to force subtitle to be loaded. To switch or change a subtitle in MPC, right click on video and choose "Navigate" in the menu that pops up.
Note: The "Audio" and "Subtitle" submenus under the "Play" menu in MPC (and their equivalents in TCMP), and "Lyrics, Captions and Subtitles" under the "Play" menu in WMP does not really control the display or showing of subtitles, as the command only internal filters.
For users who Zoom Player, right-click the video and choose "Stream selection" in the menu that pops up if the subtitle does not show up.