The Apple's iPhone 4 poor reception issue has triggered many end users to start checking and monitoring RSSI (Received signal strength indicator) bar on their devices and if you wonder how you can track its signal strength change more accurately without relying on its 5 level bars, the field test mode embedded into iOS 4.1 should give you a better picture on how your phone react especially with different holding position while moving around.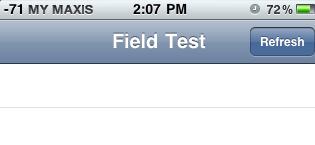 The steps are pretty straight forward, what users need to do is simply dialing *3001#12345#* using your iPhone keypad followed by a press on Call button. By then, it will enter Field Test Mode and immediately, the signal bar on top left of your iPhone screen will be replaced by number, indicating the actual signal strength of your device. The reading is in dBm and the higher the number is, the lower its signal strength and anything below -110dBm may experience call failure or drop. Pressing the number again will toggle back to normal signal bar and simply press the Home button will exit from Field Test mode.
By now you should have better feel on how your iPhone reception can be impacted under different holding situation and various condition. However, it works only on iPhone 3G/3GS/4 with iOS 4.1 but not earlier version and hopefully this Cupertino-based company will consider putting back full field mode test for more comprehensive field test measurements when iOS 4.2 is released soon.