Previously we mentioned about the way to load CCcam card sharing account using remote control or CCcam Config Editor for Dreambox, and we have learned the way to do it by loading from USB thumb drive for Openbox/ Skybox/Hibox or Yumy, but how nice would it be if you can perform the same using PC via Wireless LAN connection, here are some simple steps that you can follow to get it done.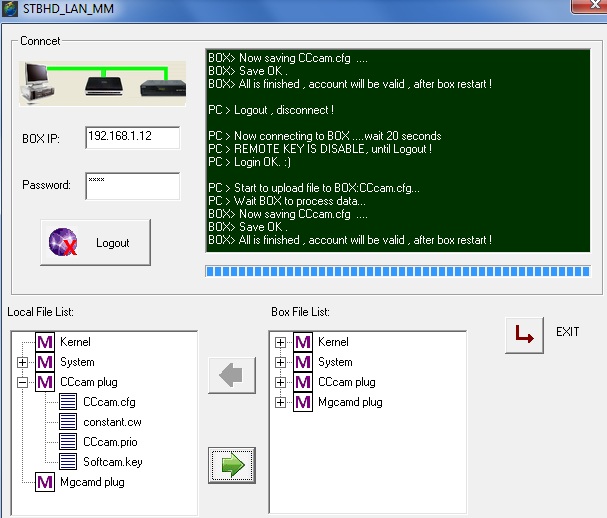 First, download STBHD_LAN_MM utility package (consisting of CCcam.cfg, CCcam.prio, CCcam.channelinfo, constant.cw and etc).
Then launch it with both PC and Openbox/ Skybox/Hibox or Yumy S9 HD decoder connected in the same LAN network (either wired or wirelessly).
Key in the decoder IP address into BOX IP field as seen from TV screen (under Menu -> Network Setup) and password as '0000' (default). Then login the system. A message of "Login oK.:)" will appear on the screen indicating the successful connection established.
By now, check for the Local File List and Box File List on left and right of the screen, which represents local hard disk and decoder storage respectively.
Click on CCcam plug under Local File List to open up the sub tree view and you will notice the CCcam.cfg. This is the new card sharing stored in your local PC (same directory as where the STBHD_LAN_MM is). And click on the green arrow button will copy it into the Openbox/ Skybox/Hibox or Yumy.
Save it and restart the Openbox/ Skybox/Hibox or Yumy and you are done.
Take note that it may not work on certain older firmware version so do try it out yourself if it works for your decoder.