It's possible the Windows 7 ISO or DVD disc media that end-user possessed may be restricted to install a single edition or version of Windows 7 only. For example, a Windows 7 Professional media may not prompt option to select which edition of Windows 7 to install, and instead will install Windows 7 Professional edition. Likewise for Windows 7 Ultimate DVD ISO image or disc which may not have edition selection screen.

However, all DVD of Windows 7 does contains and able to install all and any version of Windows 7, from Windows 7 Starter, Home Basic, Home Premium, Professional to Ultimate edition. Actually, the ability to select the version or edition of Windows 7 during setup installation, or which edition that the setup will automatically install, lies with a small configuration file named ei.cfg on the Windows 7 DVD, disc media or ISO image.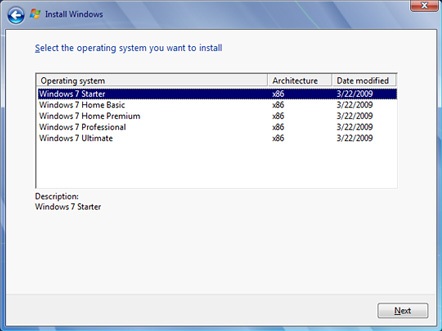 The content of the ei.cfg file, inside the "sources" folder of the DVD looks like below:
[EditionID] Ultimate
[Channel] Retail
[VL] 0
When ei.cfg does not exist, Windows 7 setup process will display a screen during Install Windows wizard to ask user to select the operating system (edition) to install. The selection of OS includes Windows 7 Starter, Windows 7 Home Basic, Windows 7 Home Premium, Windows 7 Professional and Windows 7 Ultimate. Thus, in order to be able to install any editions or install another different edition of Windows 7 without having to download ISO image or order a new DVD of Windows 7 with all SKUs enabled (allSKU version), use the following hack to delete or modify ei.cfg file.
Download and install an disc image utility such as PowerISO or UltraISO to open the ISO image of Windows 7 DVD. If you own a physical DVD disc media, the similar tool allows you to rip the DVD to ISO or other image format too.

Another alternative for user with Windows 7 DVD ISO image downloaded via torrent or from Internet is to extract all contents of the ISO image by using extraction tool such as WinRAR or 7-zip, or mount the ISO and copy contents to a folder.

Browse to /sources/ folder.
Locate ei.cfg file.
Depending on preference, it's possible to modify/edit or simply delete ei.cfg file, as explained below.

Choice 1: Delete ei.cfg

When ei.cfg is deleted, Windows 7 setup wizard will give user an option to select and choose which version (SKU) of operating system user wants to install during installation.

Choice 2: Edit and Modify ei.cfg

By modifying the EditionID section of ei.cfg by replacing Ultimate (or other edition specified there) with another edition, user can preset another edition SKU of Windows 7 that user want setup to install automatically. The Edition ID available for installation are as follow:

Ultimate
Professional
HomePremium
HomeBasic
Starter

Save the ei.cfg after editing.

For user who wants to in-place upgrade to Windows 7, it's possible to run setup.exe from extracted DVD contents now. The modified ISO can also be burned to a DVD disc or saved to a new ISO image.
Tip: Editing of ei.cfg can now be automated by Windows 7 ISO Image Edition Switcher, and deletion of ei.cfg with ei.cfg Removal Utility.