We have just mentioned about the way to record program channels on Dreambox DM500s satellite decoder in manual way and if you wonder how you can set a timer so that the recording can start automatically, here are some simple steps that you can try to get it done.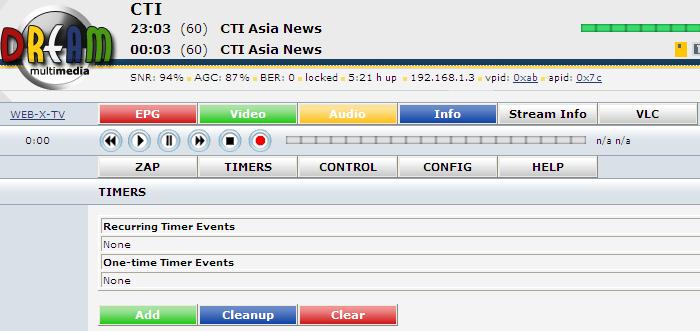 Assuming that you have done the Ngrab installation and setup for both PC and decoder, follow below steps to setup a new timer for auto-recording:
i. On your PC, launch a web browser and type in the IP address of your Dreambox in http://192.168.x.x. Enter the correct username and password (default is root and dreambox respectively) to access Dreambox decoder.
ii. Once in the web browser, Click on Timer, follow by a click on Add button to add new Timer.
iii. When next screen appear, select either as a One-time or recurring event. then put the action as 'NGRAB'. Enter the Start and End date for the recurring event to occur. Then put in the channel that you would like it to be automatically recorded when the timer reaches.
iv. Click Add and a confirmation pop up window will appear, clicking on it to confirm and you are done.
By now, users will be able to record their favorite TV program channel into PC automatically at a predefined time without users' intervention.