Apple introduces iPad Smart Cover, which supports and works on iPad 2 only. iPad Smart Cover is a unique companion for iPad 2 which is fitted via self-aligning magnetic hinge and foldable into a stand or holder for the iPad device, in addition to ability to instantly put iPad 2 into sleep when closing or wake up when opening the cover.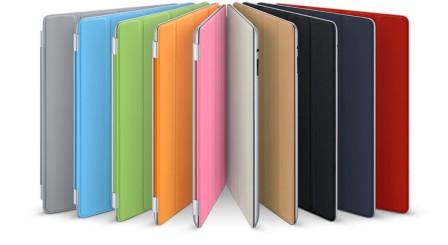 For iPad 1 (original classic iPad) owner, with a little hack, primarily to attach magnets to iPad's body, the Smart Cover can be used on the iPad too. The Smart Cover is attached to iPad 2 using magnet, which the first generation iPad lacks of. Thus for the hack to use Smart Cover on 1st generation iPad to work, you will need to get a few thin and tiny (specifically 4) rare earth magnets, which can be of block or round disc type and with width that does not bigger than iPad's thickness of around 0.5 inch (13.4 mm), from local or online hardware store.
These magnet should then be affixed onto the edge of iPadl, which happens to be flat for the magnet to stick to. For correct position to place the magnets, first stick the magnets to magnetized hinge of the Smart Cover, and then slid the Smart Cover to lock into position on iPad. Then, mark the position on the flat edge of iPad where the magnets should go. Note that the position of magnets are not symmetry. To fix the magnets permanently and securely use super glue, but it's also possible to use double-sided tape just in case super glue may damage the exterior of iPad.
Check out the video demo of original iPad 1 with Smart Cover done by Studio Neat:
The Smart Cover is nicely fitted to protect the front screen glass of iPad, though the more advanced feature such as auto-wake when opening the cover and auto-sleep when closing the cover does not work. In addition, when working as a stand for iPad, the placement looks shaky and unstable.