HP (Hewlett Packards) has just unveiled a new set-top box for consumer market. Known as MediaSmart Receiver x280N, it can act as an extender for your Windows Media Center targeted to deliver High Definition media contents streaming from your home server PC to the HDTV in living room through different LAN networks.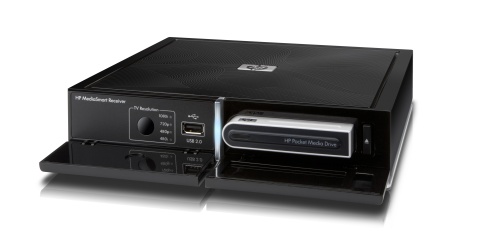 Besides running on networking through wired Ethernet or wireless 802.11a/b/g/n, users have the options to connect it to any external USB hard drives for local playback. There are wide ranges of video codec standards being supported such as MPEG-2, H.264, DivX, XviD and more which are quite common in today's consumer electronics market. In terms of AV (Audio Video) ports, it is equipped with HDMI (High Definition Multimedia Interface) to deliver Full HD resolutions up to 1080i for multiple TVs.
It is almost similar to existing flat panel TV with embedded Media Center Extender that was introduced by HP earlier. But with the introduction of this new set-top box in modularized form factor, consumers will be able to reuse their own HD TV by connecting to the set-top box without investing a brand new system. Priced at only $300, it is a good deal to have one setup in your digital home.