You may have seen Android Operating System based devices almost everywhere ranging from smartphones, tablet PCs, nettops but for the printer market, it could be something really new. Just recently, one of the earliest adopted products has been announced by HP but instead of being truly embedded into the printer machine itself, there is a detachable tablet PC running on Android OS which can flexibly being used to control the printer system and at the same time function as mobile tablet PC while on the go.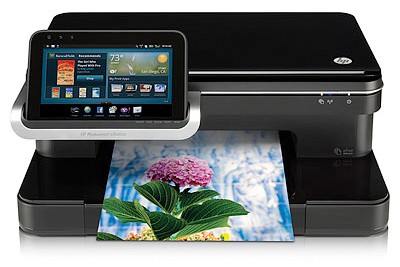 Named as PhotoSmart eStation C510, it is an inkjet printer that bundled with 7-inch detachable tablet preloaded with Android 2.1 as its touch screen control module and besides having simple and user-friendly menu interface, the tablet has been enhanced with HP's TouchSmart skin which simplify control functions (although it may lack its full compatibility with apps from Android market) when being used as an tablet PC. On top of these, it is claimed to be able to support Barnes and Noble's Nook eBook online store as a dedicated eBook reader for all with its built in 802.11n WiFi module for seamless connectivity and download activities.
In terms of its printer capability, it is claimed to be able to print up to 33 ppm with maximum resolution of 600×600 (plain black) or 9600×2400 (color), equipped with a 125-sheet input tray (and a 20 sheet tray for photos). The PhotoSmart eStation C510 is expected to reach consumer market by September 20 at a suggested retail price of $399.