HTC Corporation has officially announced its first tablet with HTC Sense, named as HTC Flyer, which HTC claims as the world's first mobile device to integrate OnLive's revolutionary cloud-based mobile gaming service, combining 7″ display, 1.5 GHz processor, Android 2.X OS, HTC Watch, HTC Scribe, natural touch and pen interaction with sleek, stylish aluminum uni-body design.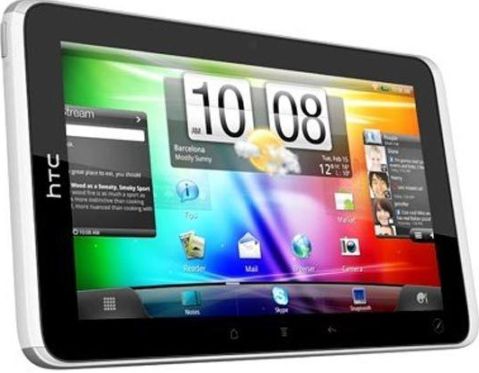 Key features of HTC Flyer:
Powerful 1.5 GHz Snapdragon processor complemented with 1GB RAM
7-inch TFT touchscreen with 1024 x 600 pixels resolution
5-megapixel autofocus camera plus 1.3MP front-facing camera
New HTC Watch video download service
New HTC Scribe technology
OnLive cloud mobile gaming service
Bluetooth 3.0 with A2DP, Wi-Fi b/g/n and super-fast HSPA+ connectivity
32GB internal memory plus microSD memory expansion slot
"Clearly, smartphones have transformed our lives but as we observed how people use smartphones, computers and other technologies, we saw an opportunity to create a tablet experience that is different, more personal and productive," commented Peter Chou, CEO for HTC Corporation. "We are progressing down a path as an industry when people will no longer be in a single device paradigm, but have multiple wireless devices for different needs; this is the direction we are moving."
The new compact and lightweight HTC Flyer Android-powered tablet which measures 195.4 x 122 x 13.2 mm and weighs just 415 grams (with 4000mAh rechargeable battery) is slated to be available globally by Q2 2011 but its exact launch date and pricing info have yet to be announced.
Update: HTC Flyer is slated to hit European market beginning May 9.