Hulu Plus is a popular commercial monthly subscription-based video streaming service that provides online video TV shows and movies. Hulu Plus is not a replacement for Hulu.com but is incremental and complementary to the existing Hulu service. The service is also available on the iPhone, iPad, and iPod touch to stream HD videos. In addition, Hulu Plus also provides tons of music, sports, and etc. Unfortunately, currently Hulu Plus only available for people residing in USA.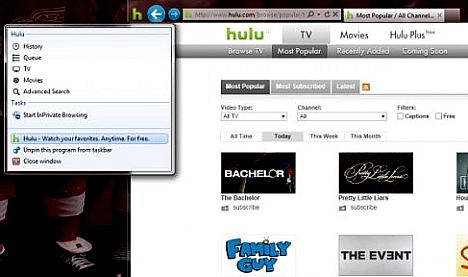 Features of Hulu Plus:
Full current season of popular shows anytime.
Enjoy full series runs or back seasons of classic shows. Thousands of episodes from hundreds of titles.
Enjoy up to 720p HD resolution with multi-bitrate support for the optimal viewing experience for your screen resolution and network connection speed.
Search and browse for shows and videos and manage your queue directly from your iPad, iPhone, and iPod Touch.
Resume play from where you left off on other Hulu Plus devices including your computer and select mobile phones, internet-connected TVs, and Blu-ray players.
Watch over TV, mobile device, or computer.
Hulu Plus premium service normally costs $7.99 per month, and subscribers can view significantly more shows such as back seasons or full seasons of TV series. To celebrate the launch of Internet Explorer (IE) 9 promotional offer, Microsoft in association with Hulu is offering free 1 month subscription of Hulu Plus. To grab free 1 month subscription of Hulu Plus, just follow the below steps:
Download the Internet Explorer (IE) 9 final version.
Install and use Internet Explorer (IE) 9 taskbar pinning feature to access websites on desktop.
Pin hulu.com by click on the webpage icon and drag it to the Windows task bar.
Starting March 28, IE9 users who pin and access the offer through the Jump List will receive a free 1 month of Hulu Plus.
Note: Internet Explorer (IE) 9 is only available to users of Windows Vista and Windows 7.