Apple has launched its iBooks application which is being designed for downloading and reading e-books on the iPad, iPhone and iPod touch. The iBooks application also includes iBookstore to download the latest best-selling books or favorite classics books to read on the iOS devices. As a special gift, the iBooks has been included a complimentary copy of the classic children's book Winnie the Pooh, by A. A. Milne.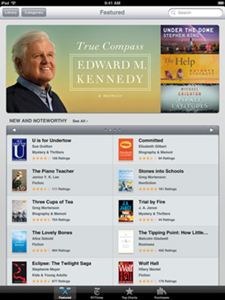 Features of the iBooks application includes:
Read a free sample of any book on the iBookstore before purchase it.
Download favorite books from the included iBookstore.
Reorder the books on bookshelf or browse them in a list sorted by title, author or category.
Able to adjust the screen brightness to find the perfect lighting for any environment.
Easily change the font size and pick from five included type faces to make the books more comfortable to read.
Find a word, character or phrase anywhere in the book with the built-in search feature.
iBooks supports amazing accessibility features in iPad such as speaking the words on a given page.
Quickly find a specific page using the page navigator at the bottom of every page.
Have built-in bookmarking feature to highlight the favorite passages.
Add books in the industry-standard ePub electronic book format to iTunes 9.1 and sync them to iPad
Currently, the iBooks application is only available in the US store and can be download from App Store for free with an iTunes Store account. For users who don't want iBooks, an alternative is Classics.