if you are an Apple's iPhone user and would like to turn the powerful smartphone into RFID (Radio Frequency Identification) or NFC (Near Field Communication) capable device, then this tiny iPhone/iPod accessory will be able to help you with simple plug-and-play so that it can be used for specific usage models. Named as iCarte, it is specifically designed to be used for iPod and iPhone by plugging directly at the bottom connector of the iPhone/iPod products without any hardware tweak or troublesome setup.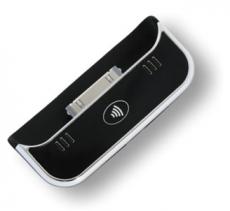 Basically there are few functions that can be achieved by utilizing this 'Made for iPod/iPhone' plug-and-play accessory. Firstly, it enables NFC function that allows contactless transaction as well as peer to peer communication. The NFC is compliant with NFCIP-1 and ISO 18092 standard and be rest assured that it can communicate with other similar standard NFC devices or infrastructure on the fly. Besides, its RFID function is compliant with ISO14443A/B and ISO15693 and run at 13.56MHz frequency span which is ideal for asset or document tracking, access control and other tasks as an added value without the need to carry additional RFID capable handheld device besides your iPod/iPhone. That is not all, the module is enhanced with SAM (Secure Access Module) smart card module that can be configured as credit/debit card or even as an electronics wallet suitable for daily usage as and when such technology becomes more common from over time.
No pricing and availability yet, the tiny device is measured at merely 62.1 X 26.5 X 12.3mm and it fits perfectly well for iPod, iPhone 3G and 3GS in either black or white color without impacting its original sleek and stylish outlook.