Portable speaker and radio maker, iLuv recently has announced its iSP200 speaker bar for laptop and desktop computers. The iLuv iSP200 speaker bar consists of magnetically-shielded and detachable speakers with a subwoofer into a singular bar-shaped enclosure. This speaker offers 32W RMS of power, three USB 2.0 ports and 3.5mm audio jack.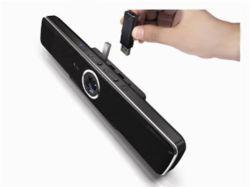 It connect to external sources through one of the USB port or a.35mm audio jack, while an auxiliary 3.5mm jack lets users connect their personal electronic gadget or other device. It also can perform as USB hub with three USB ports.
The iSP200 also features with master volume control, bass and treble adjustments, and uses SRS-XT technology to deliver a surround sound effect. It will be available for purchase in June 2009 and with the price around $100.