The leading provider of unique audio video products and accessories for portable media players and other personal entertainment devices, iLuv has announced the launch of its new iHD171 HD Radio, which features iPhone/iPod dock, iTunes Tagging, dual alarms and TV connection capabilities.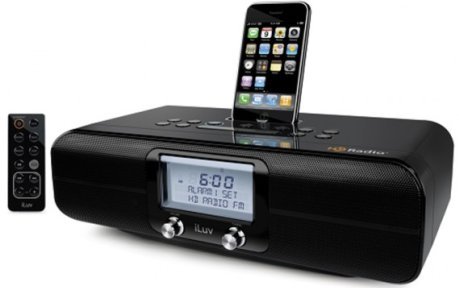 "iLuv is delighted to unveil their third HD radio alarm clock product to HD aficionados desiring a little something more in their bedside tunes and sound quality," said Robert Caputo, iLuv Sales VP. "We have created this product to meet the latest demands of HD users, featuring the dual alarm clock functions, iTunes tagging and a TV connection output for watching your iPod videos on TV."
Highlights of iLuv iHD171 HD Radio:
One touch iTunes tagging feature to tag music from HD Radio and saves the song info on your iPhone and iPod
Time Sync function automatically updates the clock to match the time on your iPhone or iPod
Provides crystal clear, digital stereo for AM/FM HD Radio and multicast stations
Receives CD-quality HD radio signals that increase clarity of FM radio stations
Displays station, song title, band and frequency information
Receives standard analog AM and FM stereo radio signals
30 Programmable presets (10 AM/20 FM)
Output your favorite videos to your TV (iPod with video capability)
jAura Acoustic Speaker Technology for rich sound
Audio output: 4Wrms x 2: 8Wrms/16Wpeak
Auxiliary line input for audio devices with standard 3.5mm jack
The new iLuv iHD171 HD Radio that incorporates digital clock display with dual alarm function is expected to be available starting this month for about $200.