The portable speaker and radio maker, iLuv unveiled iMM183 iPhone and iPod speaker docks at CES. This new model supersedes the earlier model iMM173 which adds support for weather text alerts from NOAA and SAME that automatically come through on preset radio channels. It allow user to archive up to 10 notices for ongoing situation and display LED warning when a new alert is available.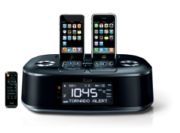 The new iMM183 able allow user to charges two device at the same times such as two iPods at the same times or one ipod and one iphone. Others features include built-in alarm clock, an FM radio and an aux-in jack that supply audio from other sources on the 6W stereo and synchronize time directly with most apple devices.
The dock supports fourth generation or later dockable iPods as well as iPhones. It is expected to be available in March 2009 and the price is yet to know.