The global leading developer and marketer of digital storage, audio and video electronics products, Imation has launched its new highly-anticipated Pro WX Wireless USB hard drive with 1.5TB of storage capacity, which the company claims as the world's first Wireless USB external hard drive, combining speed, memory capacity as well as security required in today's digital life in a convenient 3.5-inch form factor.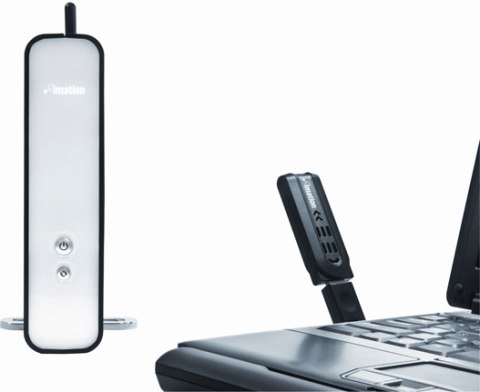 "Imation continues to be a world leader in delivering innovative storage products designed for our increasingly wireless world," said James Depuydt, director for technology at Imation. "We are now the first to provide users with a Wireless USB hard drive to continuously back up their most critical data in a unique product design. We will continue to expand our wireless storage capabilities to enable our customers to easily create, store, manage and share digital information."
Features Of Imation Pro WX Wireless USB Hard Drive:
Fast Wireless USB data transfer rate of up to 15MBs/second allowing Pro WX to back up a typical CD in under 50 seconds
Low capacity/data activity indicator lights for easy identification of data processes
One-touch, backup sync buttons for automatic backup of data, photo, music and video files
Integrated sleep mode for energy conservation
Supports wireless range up to 30 feet
1.5TB memory storage can store up to 300,000 photos or up to 750 hours of video
"With the launch of the Pro WX, Imation delivers a differentiated approach to address the specific needs of those users who desire or need to connect, store and protect data using a plug-n-play wireless USB drive that provides a capable and secure alternative to cabled solutions," said Liz Conner, research analyst of IDC.
Imation Pro WX wireless USB portable hard drive that compatible with both PC and Mac operating systems is now available via authorized Imation distributors, wholesalers, resellers and e-tailers in US for approximately $450.