Intel Corp has been very successful in pushing its Atom processors in both netbook and embedded market. In order to continue its momentum, the giant chipmaker has recently announced a next generation SoC (System-on-chip) Atom processor targeted specifically for car infotainment, home media phone as well as embedded segments during IDF (Intel Developer Forum) event held in Beijing, China.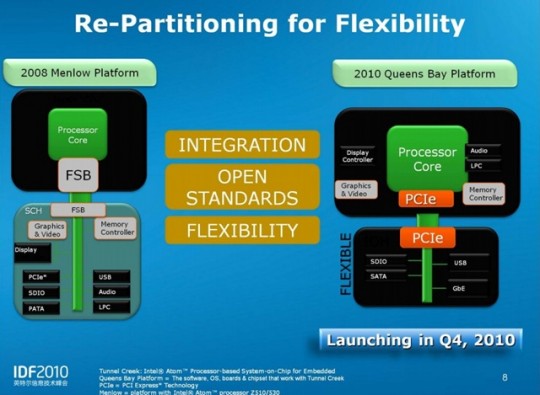 Codenamed as Tunnel Creek, it is mainly based on Moorestown, or Lincroft architecture with added feature sets as compared to existing Atom processors. Instead of the need to pair with discrete chipset such as US15W or 945GSE, the 45nm-process technology new processor is claimed to be able to provide necessary feature sets and IOs with advantages in both smaller form factor and lower power consumption. Besides, board makers will be able to take advantage of its flexibility and scalability by connecting external FPGA through open standard PCI-Express interface to cater for specific usage models, as opposed to proprietary DMI being used in certain Intel processors. Some other new enhancements include hardware accelerated video encode capability, a much powerful graphics core for multimedia intensive applications and many more. According to initial performance comparison, Tunnel Creek is expected to boost GPU performance by 50 percent as compared to existing Intel Atom Z5XX (codenamed Menlow) solutions.
No exact pricing information yet, Intel spokesperson, Doug Davis, Corporate VP and GM of Intel Embedded and Communication Group has further emphasized that the highly integrated processor will be able to benefit certain segments like IP media phones, IVI (In-vehicle-infotainment) and general embedded applications with HwaTai, a major China-based vehicle manufacturer has started initial engagement to use the X86 based architecture with MeeGo software in their future car infotainment systems.