There was confidential information on Intel's upcoming processors being leaked from the Sun Microsystem's official web server. This is believed to be some sharing material from Intel while during a meeting with Sun Microsystem's staff last month. The material contains some secret information on both Xeon Dunnington and Nehalem architectures which were not disclosed to the public before.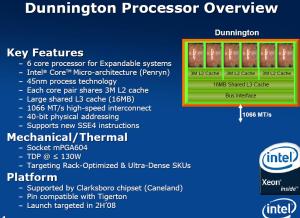 Based on the presentation foils, Dunnington, the Intel's first six-core Xeon processor is believed to have an independent 3MB L2 cache for each pair of cores and a total of 16MB UMA (Unified Memory Architecture) L3 cache sharable among the six processors. It will be pin-to-pin compatible with its predecessor, Tigerton that make it suitable for drop in replacement on existing platform. Whereas on Nehalem, most of us may have already heard of it in general like the QPI (Quick Path Interconnect) replacement for FSB (Front Side Bus), integrated memory controller into core and potential DDR3 memory support. But the most attractive part is that there was benchmarking data being leaked along with other Intel's famous processors in the market. From the comparison, Nehalem scored 163 in SPEC*fp_rate_base2006 and 176 in SPEC*int_rate_base2006, which is far above Harpertown Xeon processor.
Both Dunnington and Nehalem are expected to be launched officially by end of this year. Normally, there is agreement signed between both parties to secure confidential data from being disclosed before the official product announcement. Anyway, some minor information leakage could be beneficial as it promotes good publicity even before official launching.