Previously we mentioned about Larrabee discrete GPU that is supposed to reach consumer market by 2010, now seems that there is a huge change following an announcement by Intel spokesperson Nick Knupffer last Friday. Guess what, Intel Corp has officially announced that the long anticipated Larrabee product will not be launched as a standalone discrete graphics product for commercial market. But instead, it will be released in the form of software development platform kit targeted for both internal and external validation use.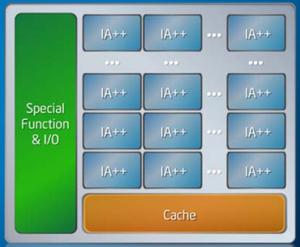 Larrabee is the Intel's first discrete GPU that intends to be used as an entrance vehicle to penetrate into market segment currently occupied by its rivals' solutions such as Nvidia's GeForce and AMD's Radeon discrete solution. While there is no explanation provided by Intel spokesperson on the delay, the main reason is believed to be due to performance and pricing expectation that cannot meet with its original target. If you recall, Larrabee was demonstrated in SC09 Supercomputing conference last month and with its result of one teraflop, it is not on par with what can be achieved by ATI Radeon solution that is claimed to have already reached up to five teraflop at similar price range.
No definite and clear milestone on its next generation Larrabee products yet, but likelihood for the giant chipmaker to switch more resource on its upcoming Sandy Bridge with integrated graphics solutions is very high to close the gap and perception that Intel's graphics solution is always inferior as compared to other rivals' discrete solutions.