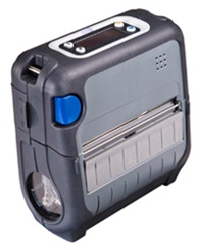 Ever need a label printer that can wirelessly connect to your mobile phone for printing? Intermec has introduced its first wireless mobile label printer, PB50, that allows users to print labels, tags or receipts wherever and whenever they require via Bluetooth and the wireless local area network (WLAN) connectivity. This new product works perfectly with Bluetooth-enabled Intermec wireless mobile computers such as CK31, CK61 and CV30 vehicle mount computer, along with the CN3 and 700 series.

The Intermec PB50 four-inch mobile label printer is small in size and easy to carry around. It has the flexibility to either be worn using a shoulder strap or belt clip, or it can be mounted to a mobile cart or fork truck. This electronics device features a large onboard flash memory which allows users to store frequently used label formats and graphics on the printer, eliminating the need to access files from the host system, which, in turn, helps to improve label throughput. It also combines high speed electronics and the ability to print the full width of all pixels simultaneously, to achieve "time to first label" in less than half the time of other label printers. The printer combines a high-voltage battery, patented techniques for print head power management and high speed electronics normally only used in desktop printers to achieve industry-leading print speeds.
The wireless mobile label printer costs US$1,150 with Bluetooth or US$1,300 with Bluetooth and Wi-Fi.