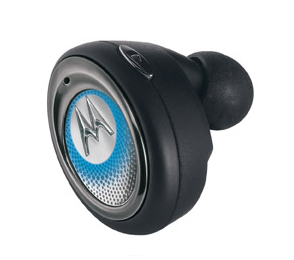 Don't panic if you see someone talking to the air and he is not holding any cell phone or using any headset. Well, he is using Motorola's H9 Miniblue headset and it is so tiny and small until you don't realize its existence.
Weighing less than an ounce and measuring about a coin's size, Motorola's H9 Miniblue Heardset can easily fit directly into the ear canal and hide inside the ear without other people's knowledge. H9 Miniblue is equipped with Bluetooh wireless technology and works well with a Bluetooh facilitated cell phone. The little device produces quality audio and manages to hold enough charge for 1.5 hours of talk. The talk time can also be prolonged with its portable charging base.

Motorola's H9 Miniblue is small, compact, lightweight, produces great audio quality and invisible from outside. However, it is a bit expensive and many people might not feel comfortable with an electronic device fixed inside their ear canal.
Motorola's H9 Miniblue