The leading provider of complete KVM (Keyboard, Video, Mouse), Connectivity, Networking, Digital Audio/Video, Mobility, and Desktop solutions, IOGEAR has launched its new product – Mobile Digital Scribe, which the company claims as the first device ever to capture natural handwriting from any surface, and store it in the receiver for future use.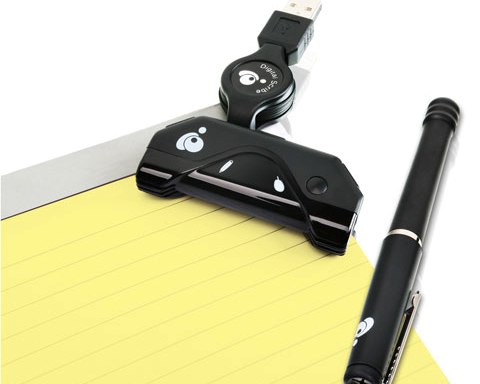 "IOGEAR recognizes the need for a cost-effective solution that enables students and professionals to digitally manage information they often hand-write on notepads," said Miranda Su, executive vice president of IOGEAR. "Our Mobile Digital Scribe gives users the ability to store and organize important notes without the hassle of toting a laptop wherever they go."
Features Of IOGEAR Mobile Digital Scribe:
No special notepad, digital pad, or ink is required
Included handwriting recognition software (OCR software) turns your handwriting into digital text
Full editing capabilities allow you to easily modify your notes
Export notes via JPEG format and share notes with other users via E-mail or Instant Messaging
Supports 12 Language OCR including English, Spanish, Traditional/Simplified Chinese, French, Dutch, Italian, German, Portuguese, Swedish, Korean, Japanese, and Russian
Students don't need to carry their laptops to class, write on paper and upload your notes when you are back in the comfort of your room
Great for Legal and Medical professionals
Write on any paper up to Letter or A4 size
The new IOGEAR Mobile Digital Scribe electronic pen is now available for about $130.