Posted:
November 25, 2008
/
Under:
Operating Systems
/
By:
My Digital Life Editorial Team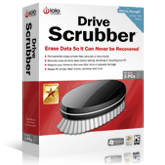 iolo DriveScrubber is a secure deletion utility that permanently and securely erase files, pictures, documents, credit card info, bank statements, passwords, etc., and wipe off entire data or just free space (for wipe deleted data) on all PC drives, flash drives, camera memory, partitions, and any other USB, Firewire, ATA, SATA, SCSI, RAID device storage. Drive Scrubber also can clean and restore drives that have been infected or damaged by stubborn spyware or viruses.

Normally, files, folders and data that have been deleted or erased can easily be read and recovered, even if the drive has been reformatted. DriveScrubber has the following features to make sure that all files and data intended for deletion is irrecoverable and wiped off completely:
Permanently erases all traces of data from hard drive.
Wipes deleted file data with U.S. Military-strength tools which meeting U.S. Department of Defense 5220.22-M disk-sanitizing standard.
Overwrites deleted data up to 100 times.
Erases removable media including memory cards, flash drives, and floppy disks.
Wipes all drive types (USB, Firewire, ATA, SATA, SCSI, RAID).
Wipes drives, partitions and removable media within Windows, no boot disk required.
Wipes any operating system, including: Windows 3.x, 95, 98, ME, NT, 2000, XP, Vista, Linux, Unix and Mac OS.
Compatible with Windows Vista, XP, 2000.
Easy one-click interface to wipe free space on any drive.
Includes CD-ROM and CD-ROM creator for full-drive wipes.
Includes boot disk creator for floppy drives.
Adjustable security levels for drive-wiping procedures, from the fast, efficient one-pass method to ultra-secure electron microscopy and magnetic field residue detection shields.
Able to be used to maintain an ultra-secure computing environment by regularly wiping only deleted data, keeping the existing files, programs, and operating system intact.
Clean at fast speed.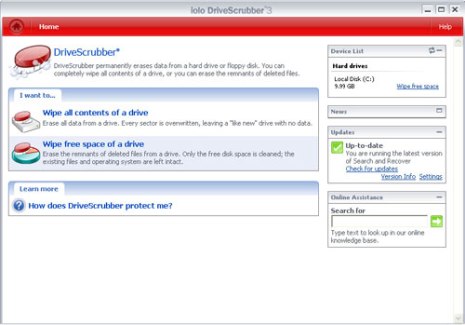 iolo DriveScrubber costs $29.95 for regular listed price with free 1 year subscription service, while continuous renew after the first year costs $19.95 annually. But why use DriveScrubber if you have to pay? As there are plenty of freeware of similar nature around, such as File Deleter, Disk Redactor and O&0 SafeErase. But now everybody has a chance to grab a free coy of DriveScrubber with license serial key number from iolo which valid for 1 year subscription.
Follow these steps to get free DriveScrubber license serial number valid for one year service:
Go to the following promotion page:

http://www.iolo.com/landing/?pid=78EB4EE2-B4D3-46F3-8F19-4C632DE602A0

Click on Continue button.
Click on Secure Checkout button to buy DriveScrubber – 1 Year Subscription at no cost.
Fill the required information on the form. Valid email is essential requirement as the serial key number to activate the product will be sent there. All other information can be fake.
Click Continue when done.
Select Email Delivery which is free as the shipping method receive the iolo DriveScrubber license key via email. Postal delivery is not free.
Click on Place Order button to get the genuine serial number for DriveScrubber.
A user ID and serial number will be sent to your mailbox.
Download iolo DriveScrubber setup installer: sr_dm.exe
(current version DriveScrubber 3).
Install DriveScrubber and use the license information as activation key code to activate the DriveScrubber as full version product.