Looking for an easy and simple solution to connect all of your USB storage into your network? The global leader in innovative storage and network security solutions, Iomega has announced its new powerful device named as Iomega iConnect Wireless Data Station, which designed to transform your portable USB drives and USB thumb drives into "Smart" network storage, allowing users to connect, share and access files securely anywhere through the Internet.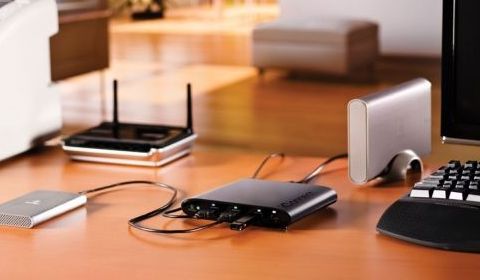 According to Iomega, iConnect Wireless Data Station is simple to set up – Connect the iConnect device to your router with Gigabit Ethernet or wireless connectivity, then plug in your USB drives into Iomega iConnect's USB ports, and they are automatically connected to and accessible on your "smart" network.
"For computer users with plenty of USB-connected storage devices, the new Iomega iConnect Wireless Data Station is great way to save money and make your USB storage drives 'smart' at the same time," commented Jonathan Huberman, president of Iomega and the Consumer and Small Business Products Division of EMC. "For less than $100, users now have a NAS device that offers everything from remote access to torrent download capability to a built-in iTunes and media server. The iConnect Wireless Data Station is a great way to utilize what you already own in a whole new way."
Key Features And Benefits Of Iomega iConnect Wireless Data Station:
Easy file sharing, data backup and print serving from any networked Windows PC, Mac or Linux workstation.
Connect directly to your router in either a wired or wireless (802.11b/g/n wireless protocol) configuration thanks to its Gigabit Ethernet and wireless connectivity.
Remote access allows users to view their photos, videos, files and more stored on the connected USB drives – from anywhere in the world. Remotely access and administer the iConnect device via a personalized web address.
Simple expandability lets users add storage capacity by simply connecting more or larger external USB drives.
Device-to-device replication for data protection allowing users to define a job to copy/synchronize files to and from the connected USB drives or any other shared storage on a network, making it easy with one-touch copying via the QuikTransfer button on the front of the Iomega iConnect.
Print Serving with intelligent print sharing capability for up to 2 USB printers.
Time Machine Support allows Apple users to easily backup any Mac computers running OS X (10.5 or later) using Time Machine
System Dashboard gives a single page view of device information and status.
UPnP DLNA Certified AV Media Server provides an ability to stream photos, audio content and videos to a variety of media devices, like gaming consoles (Xbox 360, Sony PS3), audio bridges, iTunes players, picture frames, Iomega ScreenPlay products and more.
Photo Slideshow with an integrated utility based on Cooliris technology for quick browsing of pictures stored on the connected hard drives.
Torrent Download Manager allows the iConnect to manage peer-to-peer file transfers without the need of a dedicated PC.
Picture Transfer Protocol (PTP) offers no touch, automatic transfer of photos from digital cameras via one of the 4 USB ports on iConnect Wireless Data Station.
Native security support with robust username and password authorized access.
RSA BSAFE technology protects installs and upgrades.
Iomega's full suite of data protection software is available for download, including Trend Micro Internet Security, Iomega QuikProtect, EMC Retrospect Express Backup software and MozyHome Online Backup service.
User friendly web-based management interface accessible in 11 supported languages including English, Spanish, Portuguese, French, Italian, Japanese, Korean, Traditional and Simplified Chinese, German and Russian.
The new innovative, easy-to-use Iomega iConnect Wireless Data Station that compatible with Windows, Mac OS and Linux PCs is scheduled to be available worldwide for $99.99 beginning February 2010.
Watch the demo video of Iomega iConnect Wireless Data Station below: