The worldwide leader in innovative storage and network security solutions for businesses, consumers and others, Iomega Corporation has launched its new ScreenPlay Pro HD 1TB Multimedia Drive, which features Ethernet and wireless capability for moving content from the home network to home theater, aiming to provide users a convenient way to share their family photos, music and videos from the best seat in the house.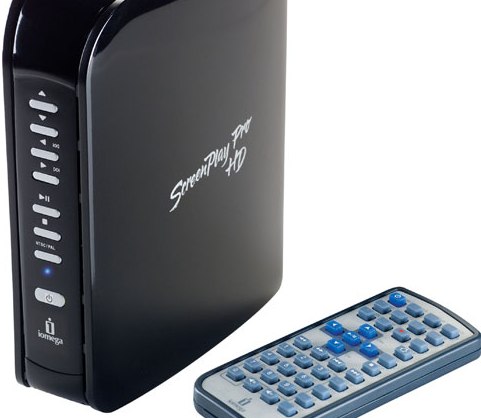 "With the Iomega ScreenPlay Pro HD Multimedia Drive, consumers can make the most of the video, photos, and music on the home network and enjoy them in their living room in all their high definition glory," said Loren Bryner, global product manager of Iomega Corporation. "Now that mainstream home entertainment products have gone high-def, the ScreenPlay Pro HD Multimedia drive lets consumers leverage that investment. With this multimedia drive attached to a home theater system, it becomes as easy to browse the home network for viewable content as it is to put in a DVD."
New Features Of 1TB Iomega ScreenPlay Pro HD Multimedia Drive:
10/100 Fast Ethernet for true network storage and more convenient access to files on the home network
Wireless capability
Better support for native high definition 720p and 1080i video
Energy Star qualified adapter
USB 2.0 connector for accessing additional storage from portable hard drive or USB Flash drive
Support for an even broader selection of formats for enjoying photos, music and video selections
According to Iomega, "Inside the ScreenPlay Pro HD Multimedia Drive is a 1.0TB 3.5 inch 7200 RPM hard drive formatted with the NTFS file system. PC connectivity options include 10/100 Fast Ethernet and USB 2.0. Video connection options include HDMI, component and composite video. Audio connection options include composite RCA and coaxial S/PDIF outputs. Contents include cables for USB, HDMI video, and composite video, along with a remote control."
The new Iomega ScreenPlay Pro HD 1.0 TB Multimedia Drive USB 2.0/AV that measures 5.7″ x 3″ x 7.26″ and weighs only 2.16 pounds is now available for about $300.