Feel panic while losing your iPhone's contacts and photos? Iomega has launched new Iomega SuperHero Backup and Charger for iPhone. It's the compact docking station which is designed to protect iPhone users' precious photos and vital contacts by automatically backing up the iPhone data while recharging iPhone battery, bundled with a 4GB SD memory card to provide the memory storage.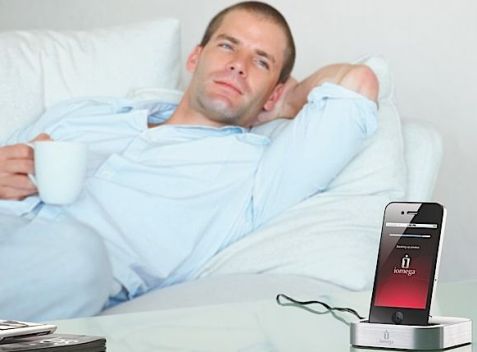 Iomega SuperHero Backup and Charger for iPhone is working with SuperHero app that available as a free download on the App Store, allowing users to easily, conveniently restore their photos and contacts to a new set of iPhone while their iPhone is lost or damaged.
"Our internal research and personal experiences tell us there are many iPhone users across the globe that have their entire lives on their phones and yet they rarely if ever plug their phone into their computer and back up it up," commented Jonathan Huberman, president of Iomega. "With the Iomega SuperHero Backup and Charger, if disaster strikes they can restore their contacts and photos to a new iPhone by simply docking it in the SuperHero and selecting the restore button. For millions and millions of busy iPhone users, Iomega's SuperHero Backup and Charger is the ideal alternative to a frantic cry to all your Facebook friends to resend the contact info because you lost your phone, much less never being able to retrieve those unique photos on the phone. Iomega has created an inexpensive, practical insurance policy for every iPhone user that values the data on their phones as much or more than the phone itself."
The new innovative Iomega SuperHero Backup and Charger for iPhone that supports iPhone 4, 3G, 3GS, iPod touch (3rd and 4th generation) is now available for a SRP of $69.99. The interested consumers also can take a look of the SuperHero Backup and Charger for iPhone at CES 2011 (January 6-9, 2011).