Apple has released iOS 4.3.1 Software Update for iPhone 4, iPhone 3Gs, iPod touch (4th generation), iPod touch (3rd generation), iPad and iPad 2, which has been rumored to be released to fix a security vulnerability found on Mobile Safari running on iPhone 4 at Pwn2Own contest by Charlie Miller, which possibly be used as jailbreak exploit. Days ago, Apple has also separately released iOS 4.2.1 for Apple TV (build 8F202).



iOS 4.3.1 firmware OS update contains improvements and other bug fixes including:
Fixes an occasional graphics glitch on iPod touch (4th generation)
Resolves bugs related to activating and connecting to some cellular networks
Fixes image flicker when using Apple Digital AV Adapter with some TVs
Resolves an issue authenticating with some enterprise web services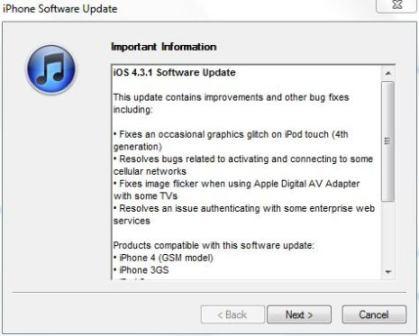 Apple TV iOS 4.2.1 changelog includes:
TV compatibility – Addresses issues that may cause the screen to flicker or display incorrect color on some older TVs.
Wake from sleep – Addresses an issue where Apple TV may not wake up from sleep.
Audio – Addresses an issue where audio may not be heard on some TV models after switching from another input.
Stability and performance – Apple TV Software Update 4.2.1 includes stability and performance fixes for Apple TV.
Early report indicates that iOS 4.3.1 may slightly improve battery life, though it still depend on how the gadget is used.
The latest version of firmware OS can be downloaded and updated to the mobile device via iTunes, or in the case of Apple TV, by selecting Update Software in Settings -> General.
Direct Download Links for iOS 4.3.1 and iOS 4.2.1
iPhone 4: iPhone3,1_4.3.1_8G4_Restore.ipsw
iPhone 3Gs: iPhone2,1_4.3.1_8G4_Restore.ipsw
iPod touch (4G): iPod4,1_4.3.1_8G4_Restore.ipsw
iPod touch (3G): iPod3,1_4.3.1_8G4_Restore.ipsw
iPad 2: iPad2,1_4.3.1_8G4_Restore.ipsw
iPad 1: iPad1,1_4.3.1_8G4_Restore.ipsw
Apple TV (iOS 4.2.1): AppleTV2,1_4.3_8F202_Restore.ipsw
Update: iOS 4.3.2