The designer and manufacturer of disaster proof hardware technologies and devices, ioSafe has launched its new ioSafe Solo, which the company claims as the world's first 1.5TB external hard drive with integrated disaster protection technologies, aiming to improve risks for disk backup disaster recovery solution.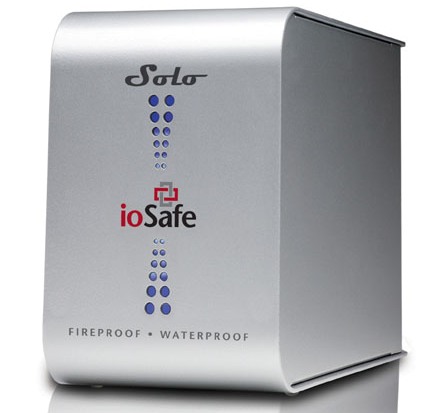 "For years ioSafe has provided the industry's leading disaster proof hardware. The ioSafe Solo at 1.5TB, provides a tremendous disaster protection solution and represents fantastic value as a plug-and-play USB external hard drive versus unprotected external hard drives," said Robb Moore, CEO of ioSafe. "Using our patented technology and manufacturing processes, we have improved on our enterprise backup appliances and created the first affordable disaster proof external hard drive solution to resolve risks optimizing data protection for consumers and businesses. Anywhere data is at risk from fire and flood, the ioSafe Solo can be a solution to improve the risk and help prevent data loss."
ioSafe Solo was built using 3 technologies developed by ioSafe include:
ioSafe's patented FloSafe cooling vent technology provides air-flow cooling to dissipate heat during normal operation. FloSafe technology also has the ability to detect destructive heat levels and automatically close the vents to protect data from extreme heat.
Extreme heat protection is provided by ioSafe's proprietary DataCast endothermic insulation technology. Endothermic insulation uses trapped water molecules to maintain internal heat temperatures at just above 200°F while outside temperatures can reach a searing 1,550°F.
The patented HydroSafe technology is a waterproof vapor barrier designed to protect data loss from fresh or salt-water damage, including full immersion. Simultaneously, HydroSafe technology allows the cooling FloSafe air flow heat dissipation required by all computer hardware during normal operation.
"For less than 30 cents per gigabyte, no other solution I can think of offers so much disaster protection, speed and capacity for so little money," said George Crump, founder of Storage Switzerland, an analyst firm focused on the storage and virtualization markets. "ioSafe has developed a very compelling product for every person or business using external hard drives. Located in Texas, we use ioSafe solutions and certainly felt safer knowing our critical data was on ioSafe drives during the Hurricane Ike event. The majority of data stored today is at risk of loss from fires or floods. Anybody with unprotected precious digital data should buy one of these now — before the fire or flood — not after."
The new ioSafe Solo external hard drives that come in 500GB, 1TB and 1.5TB storage capacities are now available for $149, $199 and $299, respectively.