The leading provider of rugged, fireproof, waterproof hardware and disaster recovery services, ioSafe has announced the launch of its new ioSafe Solo SSD, which the company claims as the world's first disaster proof solid state portable hard drive designed to protect data from building collapse, fires and floods, combining SSD technology with ioSafe's new proprietary ArmorPlate military grade steel drive casing aimed to protect your valuable data from 5000 pounds crush forces, 1000g shock and 20 foot drop into rubble.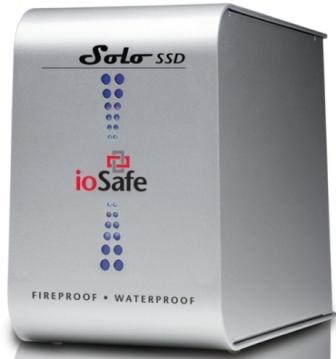 Features of ioSafe Solo SSD:
FloSafe air cooled technology for reliable operation
Complete water submersion of 30 ft for 30 days thanks to HydroSafe Technology
Up to 1550°F (fire) for half an hour with no data loss thanks to DataCast Technology
USB 2.0 and eSATA interface allows for maximum compatibility across for any PC, laptop and Mac computer
Comes with ioSafe's Data Recovery Service
"The new ioSafe Solo SSD is the world's most rugged and versatile desktop external hard drive. In addition to the USB interface, the new eSATA connection allows for fast data transfers and full compatibility with almost any Microsoft, MS Server, Linux or Mac operating system. The ioSafe Solo SSD can be used alone or in conjunction with any offsite or online backup strategy to add real time, zero data loss, synchronous disaster protection to any data that sits vulnerable," commented Robb Moore, CEO of ioSafe. "Businesses, especially small businesses, struggle with disaster recovery and regulatory compliance such as HIPAA, PCI or Sarbanes Oxley, can use ioSafe hardware to add simple, inexpensive and secure protection. The ioSafe Solo is one of the easiest, fastest and least expensive ways to protect your data."
The new ioSafe Solo SSD solid state external hard drive that available in 3 variants of memory capacity – 64GB, 128GB and 256GB, is slated to ship in coming February 2010 for $499, $749 and $1,250, respectively.