If you have multiple Apple's devices such as iPad or iPhone and instead of looking for separate docking station for each of them, here is a new combo design that integrates all necessary docking interfaces specifically tailored for hot products from the Cupertino based company. Named as iPADock, it is a new docking station being developed by PhotoFast Co. Ltd, a Japanese company with intention to have an all-in-one docking place for consumer market.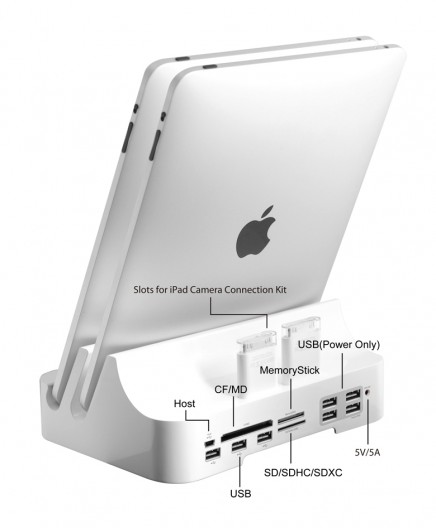 Measured at 2.7 x 5.5 x 7.5inches, the docking station can accommodate up to two iPads at any time, or up to four iPhones or a combination of both which are far more sufficient for normal usage. Besides, it is featured with multiple memory slots supporting various formats such as mini SD/SDHC, SD/SDHC, micro SD/SDHC, CF and many more. To make it more powerful, it is equipped with four USB host ports that can be used to charge any USB compatible mobile devices such as iPod Touch, Nano or other brand smartphone devices without limitation. That is not all, two ports dedicated for iPad camera connection kit are fitted in and the whole docking is powered merely by an external 5V/5A for normal operation.
With a retail price of 5980 yen (equivalent to $70), the combo docking station will be commercialized by next month in Japan market. However, no confirmation if it will be launched in other countries at this moment but should not be restricted if there is demand for it.