The designer and manufacturer of Internet-based devices that enhance the Internet experience, IPEVO has launched its new Bluetooth-enabled Tubular Wireless Speakers, which consists of two 3-watt speakers that can be connected for quality 2-way stereo sound, allowing users to control the speaker output directly on their own music player (perform as the remote control), aiming to enhance your music playing experience.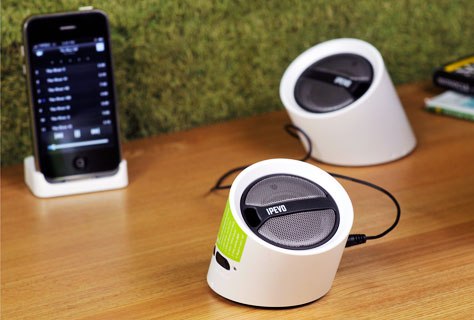 According to IPEVO, "Bluetooth pairing is achieved through a multifunction button on the primary speaker, which also turns the unit on and off. Two other buttons control volume. And with certain Bluetooth devices, the three buttons together can also be used to navigate through tracks and accomplish play and pause functions."
Key Features Of IPEVO Tubular Wireless Speakers:
Unique and portable interlocking tube design – 3+3 watt speakers for quality two-way stereo sound
USB-rechargeable lithium ion battery supports up to 8 hours of music enjoyment on a single charge
Rubber spools on each speaker rotate to wind cords for portability and to avoid clutter
Bluetooth capability supports range up to 32 feet (10 meters)
Fully compatible with any Bluetooth-enabled music player
The new modern, lightweight and compact IPEVO Tubular Wireless Speakers which measures 2.5 x 5.5 x 2.9 inches and weighs in at 9.5 ounces is now available for $79.
Watch the demo video of IPEVO Tubular Wireless Speakers: