The refreshed iPhone 4S have officially been made available for pre-ordering starting since monring of Friday, October 7, 2011, on Apple online stores or mobile service providers' online stores in several countries, including United States via AT&T, Verizon and Sprint; United Kingdom via O2, T-Mobile, Orange, Three and Vodafone, Australia via Optus, Telstra, Vodafone and Virgin Mobile; Canada via Bell, Fido, Koodo, MTS, Rogers, SaskTel, Telus and Virgin Mobile; Germany via O2, Telekom and Vodafone; and France via Orange, SFR, Bouygues Telecom and Virgin Mobile.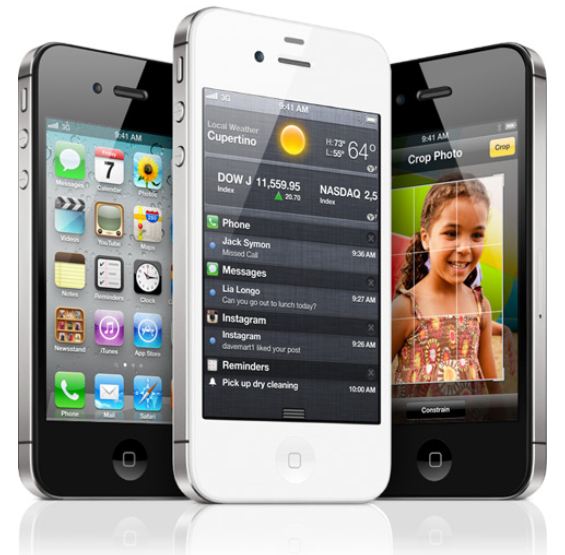 While the features of iPhone 4S is considered by many to be underwhelming with just minor upgrade from iPhone 4, but the smartphone is still a hit among Apple fanboys, especially with projected huge pent-up demand due to a longer than usual gap of 16 months between release, and is expected to be selling like hotcakes.
iPhone 4S features:
Dual-core A5 chip (upgraded from single-core A4 chip)
512 MB RAM
3.5″ Retina display (640×960 resolution with 800:1 contrast ratio and500 cd/m2 max brightness)
Fingerprint-resistant oleophobic coating
New antenna design which automatically switch between two antennas to provide the best signal.
8MP rear-facing camera (upgraded from 5MP)
1080p full HD video recording at 30 fps (upgraded from 720p HD video recording)
f/2.4 aperture (upgraded from f/2.8)
Video stabilization via built-in gyroscope
World phone and can work on UMTS/HSDPA/HSUPA (850, 900, 1900, 2100 MHz), GSM/EDGE (850, 900, 1800, 1900 MHz) and CDMA EV-DO Rev. A (800, 1900 MHz) networks
Intelligent Siri voice command personal assistant
Talk time: Up to 8 hours on 3G, up to 14 hours on 2G (GSM); Standby time: Up to 200 hours; Internet use: Up to 6 hours on 3G, up to 9 hours on Wi-Fi; Video playback: Up to 10 hours; Audio playback: Up to 40 hours
Height: 4.5 inches (115.2 mm); Width: 2.31 inches (58.6 mm); Depth: 0.37 inch (9.3 mm); Weight: 4.9 ounces (140 grams)
802.11b/g/n Wi-Fi (802.11n 2.4GHz only) and Bluetooth 4.0 wireless technology
Three-axis gyro; Accelerometer; Proximity sensor; Ambient light sensor
Price of iPhone 4S (with two-year wireless service contract with AT&T, Verizon or Sprint):
16GB (Black or White): $199
32GB (Black or White): $299
64GB (Black or White): $399
Price of unlocked and contract free iPhone 4S:
16GB (Black or White): $649
32GB (Black or White): $749
64GB (Black or White): $849
The iPhone 4S will available in store from October 14 on the above countries, plus Japan. The shipment for pre-order will start around October 14 too.
Shop for iPhone 4S on Apple Store Online (US) or Apple store of respective countries.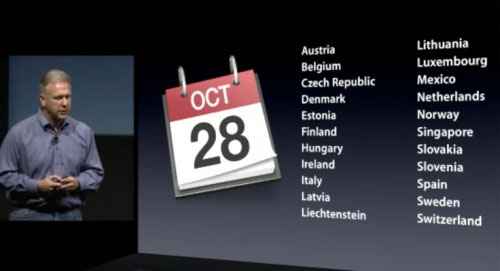 Next up will be more countries where Apple customers can purchase iPhone 4S, including Austria, Belgium, Czech Republic, Denmark, Estonia, Finland, Hungary, Ireland, Italy, Latvia, Liechtenstein, Lithuania, Luxembourg, Mexico, Netherlands, Norway, Singapore, Slovakia, Slovenia, Spain, Sweden,and Switzerland.
There is no news yet on when the iPhone 4S will release on other countries such as India, Indonesia, Malaysia, Brazil, although Hong Kong and China, which likely to be the hot market for iPhone 4S are rumored to have iPhone 4S by end of November.