The world leader in innovative and stylish portable digital devices, iRiver has launched its latest sleek and modern PMP (Portable Media Player), named as iRiver p7, which features large 4.3-inch WQVGA (480 x 272 pixels) TFT LCD touch screen with widget-like GUI layout, supporting up to 50 hours of audio playback or up to 7 hours of video playback.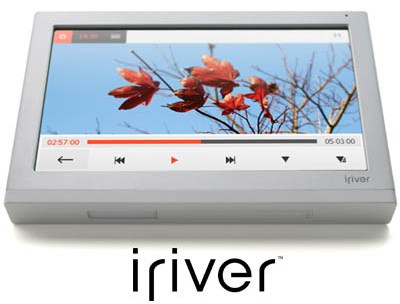 According to the company, the iRiver P7 that incorporates photo viewer, FM tuner as well as voice and FM recording functions can support wide variety of movie CODEC and music file formats including MPEG, DivX, RM, RMVB, H.264, MP3, WMA, OGG, ASF, FLAC, APE,and WAV.
"Innovation is a hallmark of iRiver's device design," said Sean Oh, President of U.S. Operations, iRiver. "With the P7, we created a distinctive interface for the large touch screen that makes the player look and feel more personalized to the user."
The new stylish iRiver P7 PMP which measures 2.88 x 4.4 x 0.5-inches and weights only 6.1 oz are available at iriverinc.com, Amazon.com, Fry's, J&R, B&H, Radioshack.com and more online stores for MSRP of $179.99 (8GB) and $209.99 (16GB), respectively.