Wonder how nice would it be if we can use our voice to control the alarm clock so that it can be turned on, snooze or set the right time without the need to physically set it in traditional way. Now with a bit of innovation and integration of voice control technology, you will be able to enjoy the convenience especially during your bedtime. Known as iTalk Voice Alarm Clock, it can be activated by voice control with few common commands that make your life easier in digital home.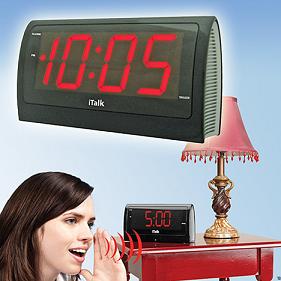 In order to activate the voice control and command, just say "Hello iTalk" and the clock is ready to serve you. Users can say "Set Alarm" and it will turn on the alarm setting for you to configure the alarm time. One of the very useful functions that is worth to be mentioned here is the snoozing feature. Without the need to wake up to try to snooze the alarm clock, just say "Snooze" and it will activate the function to give you more time for extra rest. On top of these, there are additional six commands including "what time is it", "alarm sound", "help" and many more that will definitely simplify the control function.
Alternatively, users can switch back to conventional manual control function just like normal clock. However, at a retail price of $70, it may set you back unless you really need some embedded technology even for simple clock device.