In order to support the upcoming iOS 4.2, Apple has upgraded its iTunes to version 10.1. The iTunes 10.1 has been designed to support the new mobile operating system for Apple devices such as iPhone, iPod touch and iPad. The new iTunes 10.1 is also integrated with AirPlay feature for users to stream videos from their iTunes library to the new Apple TV 2G.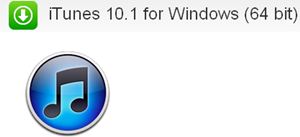 The iTunes 10.1 includes the following new features:
Use AirPlay to instantly and wirelessly stream videos from iTunes to the all-new Apple TV.
Sync with your iPhone, iPad, or iPod touch with iOS 4.2.
Provides a number of important stability and performance improvements.
The iTunes 10.1 works well in Mac OS X version 10.5 or later, QuickTime 7.6 or later and Safari 4.0.3 or later. However, the HD TV episodes can only be rented in the United States. iTunes will update itself to new version through the Apple Software Update utility or users can directly download iTunes 10.1 from the  following direct download links.
Download iTunes 10.0.1 for Windows XP, Vista or Windows 7: iTunesSetup.exe
Download iTunes 10.0.1 for Windows (64-bit): iTunes64Setup.exe
Download iTunes 10.0.1 for Mac OS X: iTunes10.0.1.dmg
Update: iTunes 10.2