Instead of giving away free software or hardware on Christmas Day, Apple is giving away free media on iTunes in UK beginning 26th till 6th Jan. It is under a program called as iTunes 12 Days of Christmas. During iTunes 12 Days of Christmas, you can get a free download every day from 26th Dec to 6th Jan, including rare singles, exclusive live tracks, music videos and classic TV programmes.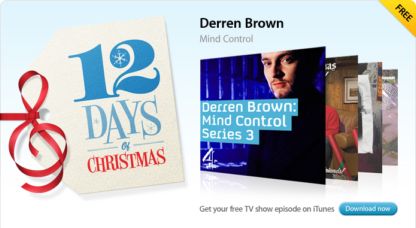 To access the 12 Days of Christmas free downloads, you need to install iTunes and create an iTunes Store Account. Once you have iTunes installed and your account has been set up, return to the 12 Days of Christmas website to access your free downloads or sign-up for emails alerts to get details of each free offer delivered straight to your inbox.
So far, there have two media has been offered. On 26th Dec, Apple were offering a music video of 'That's Not My Name' by 'The Tings Tings' (number 1 back in May) and today, a free episode of 'Derren Brown's Mind Control' is available for free download and viewing.