The world leader in innovative headset solutions through its Jabra brand, GN Netcom has announced its latest Jabra M5390 USB and BT530 USB Multiuse Bluetooth headsets, which can pair with up to 8 devices including PDA/cell phones and wideband PC soft-phones, aiming to provide users an ultimate hands-free experience.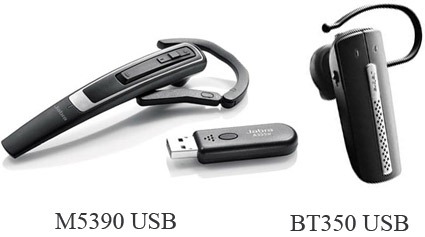 In addition, both of the latest Jabra Bluetooth headsets can be paired to two devices at the same time.
Highlights of sleek Jabra M5390 USB Bluetooth headset:
One headset for mobile, desk and PC based telephony
Wireless range up to 70 meters (200 foot)
Up to 6 hours talk time or 60 hours standby time
Wideband audio and noise cancelling microphone
Plug-and-play Bluetooth connectivity to PC or VoIP
True wideband sound with USB dongle
Two wearing styles (earhook and headband)
Comes with Jabra PC Suite with e-hook functionality for Microsoft Office Communicator, Skype and Cisco IP Communicator
"People have embraced headsets for personal use and now is the time for business professionals to leverage headsets for increased mobility and efficiency within their office environments," said David Grazio, Director of Channel Marketing, Contact Center and Office, GN Netcom. "These cutting-edge products have improved voice quality and noise elimination, enabling professionals to be hands-free so they can multitask."
Highlights of state-of-the-art Jabra BT530 USB Bluetooth headset:
First Bluetooth headset including innovative Noise Blackout feature with 2 noise-cancelling microphones
Wireless range up to 33 feet
Up to 5.5 hours of talk time or 250 hours of standby time
Crystal clear sound with advanced DSP technology delivering immaculate quality sound on both sides of the call
Delivers ultra-clear conversations with Bluetooth 2.0 EDR and eSCO for outstanding audio quality
Plug-and-play Bluetooth adapter for PC applications and soft-phones
Dual wearing style with 3rd generation Jabra Eargel and flexible ear hook for maximum individualized comfort
Includes Jabra PC Suite with VoIP functionality for Skype, Cisco and Microsoft Office Communicator
The latest Jabra BT530 USB is now available for $129, while the Jabra M5390 USB will hit the market by January 2009 for $191.