PC is no longer limited to be used at home or office. It has been evolved from desktop to laptop and even now there is a trend of integrating computer system into vehicle. Looking at this business opportunity, Jensen has prepared to launch its in-vehicle PC targeting for mobile market. Known as NVX3000, it has integrated GPS (Global Positioning System) module and multimedia features for In-Vehicle entertainment.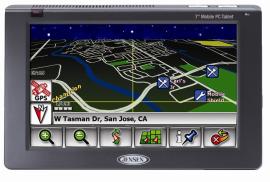 The device is powered by Via processor running at 1GHz speed. Via is famous of low and middle end processor with competitive pricing in embedded world. It is back up by a huge internal hard drive of 30GB for multimedia storage. Besides, there is an extended SD slot to enable user to plug in additional 2GB for data transfer. More interestingly, it has built in GPS module that helps to track user location with full map displayed on the 7-inch touch screen.
There are additional features that worth mentioning like integrated FM transmitter that can stream the audio from PC to the car speaker system and Windows Vista OS (Operating System) support which offer more traction to consumers. The product will be available in commercial market at $1500.